Transform your Stripe integration with Hiveway's comprehensive design and scope package, meticulously crafted to ensure your payment solutions are both aesthetically pleasing and functionally robust.
Unlocking Your Payment Potential with Hiveway?
At Hiveway, we're more than just an ordinary Stripe implementation partner. We're your strategic ally, committed to shaping the future of your payment processing operations. With our comprehensive analysis and implementation services, we cover both your current systems and pave the way for seamless integration of new payment solutions. Let us take you on a journey to optimize your payment processing operations and help you stay ahead of the competition..


Why Choose Hiveway?
Expert Recommendations for Growth
When it comes to improving your payment systems and driving business growth, you need expert guidance. At Hiveway, our seasoned team provides tailored recommendations to enhance your payment processes and align them with your growth objectives. Drawing from years of experience in Stripe solutions, we offer the insights and strategies you need to reach your goals.


Future-Proofing Your Business
In today's ever-evolving business landscape, having a well-defined growth marketing plan is essential. Our dedicated team at Hiveway is committed to future-proofing your payment infrastructure by leveraging the latest Stripe products and cutting-edge technologies. We stay at the forefront of industry trends to ensure your business remains competitive and adaptable to change. With Hiveway, your payment systems are primed for long-term success.
Our Services

Stripe Payments
Efficiency and reliability are paramount when it comes to payment processing. Our Stripe Payments service ensures that your transactions are seamless, secure, and poised for growth. We eliminate the complexities, allowing you to focus on what you do best while we handle the rest.

Stripe Billing
Managing subscriptions and recurring payments has never been easier. With our Stripe Billing solutions, you can streamline your billing processes, reduce churn, and enhance customer satisfaction. We simplify the subscription management process, giving you more time to nurture customer relationships.

Stripe Connect
Connecting your platform with Stripe's powerful capabilities is a strategic move for your business. With Stripe Connect, we help you unlock new revenue streams and expand your business reach. Our experts ensure a smooth integration, allowing you to harness the full potential of Stripe Connect.

Stripe Terminal
Empower your in-person sales with Stripe Terminal. Our Stripe Terminal solutions enable you to accept payments anywhere, providing a seamless and secure experience for your customers. Whether you're at a physical storefront or an event, we've got your payment processing needs covered.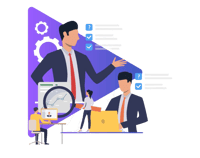 Let's discuss how to create an optimal payment strategy!